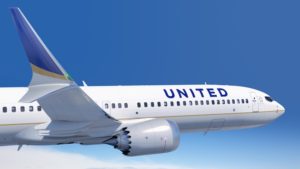 United Airlines announced November 10, 2020 that it is returning service to John F. Kennedy Airport (JFK) on February 1, 2021, including nonstop service to the west coast.
The airline had not had routes to JFK for five years. The new United service will operate out of Terminal 7.
"I have been waiting a long time to say this – United Airlines is back at JFK," said United's Chief Executive Officer Scott Kirby. "Come early next year, we will be serving all three major New York City area airports with a best-in-class product to provide our customers unmatched transcontinental service from New York City and the west coast."
United will have two routes from New York to California. The first will be from JFK to Los Angeles International Airport (LAX). The second will be from JFK to San Francisco International Airport (SFO).
Both routes will have two round-trip flights per day. The reconfigured Boeing 767-300ER aircraft will fly these routes.
Each plane has an extended premium cabin with 16 more United Business class seats to a total of 46. There will also be 22 United Premium Plus seats, 47 Economy Plus seats and 52 Economy seats.
"United Airlines' return to JFK Airport is a clear sign that air travel is returning in New York and across the region," said Rick Cotton, Executive Director of the Port Authority of New York and New Jersey. "As numbers start to rise, the Port Authority is ready to welcome travelers back to JFK, Newark Liberty and LaGuardia Airports with increased cleaning and sanitizing in all terminals and touch-free options from curb to gate to ensure a world-class travel experience even in these unprecedented times."
This announcement comes directly after United announced last month that they were adding 1,400 new flights for the holiday season, adding new routes to popular, warmer destinations in cities like Maui and Los Angeles.
United has also implemented some of the most rigorous procedures to help mitigate the risk of COVID-19, including requiring passengers to take a health assessment online. United is also participating in the CommonPass trial, an online database that allows passengers to upload their negative COVID-19 test results to show to the airline prior to boarding.
For more information or to book a flight, please visit United.com.