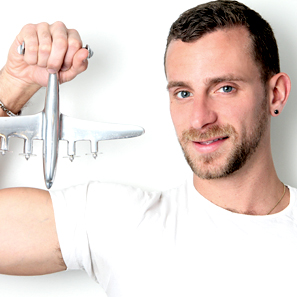 The Story of
the Innate Travel GURU

Dane Steele Green, Steele Luxury Travel's President & CEO, began his entrepreneurial career at the tender age of 16. As a teenager, on family trips to Italy, Dane identified a market for discounted luxury goods and would purchase designer items and sell them on eBay for extra spending money.
At the same time, Dane's desire for travel was ignited. With a hunger to explore the world, and a penchant for languages, Dane picked up Italian and later absorbed French, Spanish and Hebrew. He studied Business and Communications at New York University, and traveled as frequently as possible.
After graduating, Dane began his career in marketing with Jet Blue followed by Alitalia, working with The Italian Tourism Board and travel agents to promote Italy as a leisure destination.
While working full time, Dane managed a rapidly growing roster of clients and, in 2007, recognized an opportunity to create his own travel business, and left the corporate world to launch Steele Luxury Travel.
With ten years of travel experience under his belt, Dane has received numerous accolades throughout his career. He has been named as one of Travel Agent Magazine's 30-Under-30 and has been featured in publications including The New York Times, Entrepreneur, Crane's and The Wall Street Journal.
While the profile of Steele Luxury Travel has grown, Dane's philosophy has remained the same. His mission is to humanize the customer experience and make sure that every client is equipped to embrace his personal and professional motto: Live Your Indulgence®.