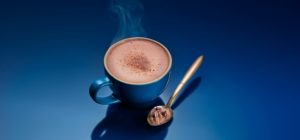 United Airlines is adding hot cocoa to its menu of onboard beverages, but it's not just any hot cocoa.
This one is from one of the most famous chocolatiers in the world.
And it's only available for a limited time.
And it's only available in limited amounts.
Yeah, it's that exclusive.
From December through February, United is offering Ghirardelli Hot Cocoa onboard all cabins on its airlines, according to the blog Live And Let's Fly.
The company was founded by Domenico Ghirardelli, who emigrated from Italy to San Francisco and founded The Ghirardelli Chocolate Company in 1852. It is the third-oldest chocolatier in the world behind Baker's Chocolate and Whitmer's.
Its flagship ice cream shop near Fisherman's Wharf in San Francisco is one of the biggest tourist attractions in the city.
But, at least there, the ice cream and the hot cocoa are in endless supply. On United flights for the next three months, the beverage is in limited quantity.
Live And Let's Fly noted that United's narrowbody aircraft will have five packets in economy class and five packets in first class while widebody aircraft will have 10 in economy class and 10 in premium cabins, including premium economy ("Premium Plus") and business class ("Polaris").