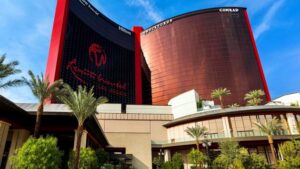 Resorts World Las Vegas, the first new hotel-casino on the Vegas Strip in nearly a dozen years, has certainly made a splash since it opened earlier this year.
The 3,500-room property has added notable restaurants, a 'Street Eats' food-hall concept, high-end retail stores, and a star-studded musical residency lineup to rival any other property.
Now it is upping the ante again.
In a statement this week, Resorts World announced the purchase of its own Boeing 787-8 Dreamliner plane to add to its private airline fleet.
The acquisition of the four-year-old Dreamliner is a game-changer. Many, if not all, major hotel-casinos in Las Vegas have their own private planes to ferry their biggest whales to their respective properties.
That includes Resorts World, which in June of this year purchased a Bombardier Express XRS jet just before its grand opening. It can accommodate 12 guests.
But this is on another level.
The Dreamliner can comfortably transport up to 262 guests with both economy and business class seating options.
In a release, Resorts World said, "As the only resort-owned airplane of this size in Las Vegas, this purchase opens up new opportunities for the resort's potential and existing luxury customers, as well as large groups and premium mass segments seeking easy and exclusive travel options, offering an amenity not currently available in the marketplace. This new addition also provides Resorts World Las Vegas the unique opportunity to explore innovative charter services outside the resort's primary hospitality function through its sales and convention teams as an alternative option for large corporate and leisure groups to fly privately to and from international destinations."
The company mentioned such large metropolitan areas as Los Angeles, San Francisco, New York, Miami, Dallas and Chicago.
The Dreamliner has a range of up to 8,200 nautical miles, meaning Resorts World can also use it for non-stop routes from Las Vegas to Asia, Europe and Latin America.