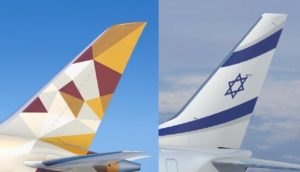 Abu Dhabi-based Etihad Airways will start direct flights from the United Arab Emirates to Tel Aviv on March 31, 2021. It has entered into a new agreement with Israel's El Al for codesharing and a frequent flyer partnership.
This is monumental. Not only will this Arab state airline fly non-stop to Israel, it will all Israel's flag carrier to put its own code on Etihad flights. That means, effectively, that certain Etihad flights – which all begin with a prayer from the Quran – will also be El Al flights.
The Memorandum of Understanding was signed by the CEOs of Etihad and El Al over Zoom, with details of the partnership still to be worked out.
Etihad will benefit connecting Israeli passengers through its Abu Dhabi hub to destinations throughout the world, while El Al customers gain the ability to credit miles to the (much) more lucrative Etihad Guest. And once we're past the current unpleasantness fronted in the U.S. by Rudy Giuliani (how does he still have a law license?), perhaps history will look kindly on U.S. foreign policy achievements in the Middle East during President Trump's term in office.