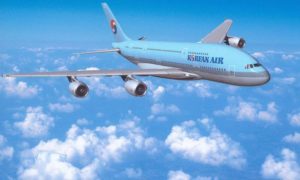 With the COVID-19 pandemic hurting South Korea's aviation space, Korean Air is making a move to consolidate the nation's airlines by purchasing rival Asiana Airlines. The merger would involve a $1.35 billion purchase of Asiana shares, along with $271 million in corporate bonds.
Korean Air and Asiana could potentially become one airline, giving the South Korean peninsula a single national carrier in the wake of the COVID-19 pandemic. On Monday, Nov. 16, 2020, Korea Air parent company Hanjin Group announced the $1.62 billion (1.8 billion Korean Won) deal to take over their smaller competitor.
KOREAN AIR-ASIANA MERGER SEEN FAVORABLY BY SOUTH KOREAN GOVERNMENT
Asiana Airlines was founded as Seoul Air International in 1988, announced ahead of the South Korean capital hosting the summer Olympic Games. However, their first commercial flight wouldn't see the skies until December of the year, flying a route between Seoul and Busan. By 2003, the airline went international and became a full member of Star Alliance.
Since then, the carrier has faced difficult times, as parent company Kumho Asiana Group navigated a pre-pandemic financial crisis. Their solution was to sell the airline, and was almost purchased by a spin off of the Hyundai Group.
Under the proposed plan, Korean Air would purchase $1.35 billion of Asiana shares, along with $271 million in corporate bonds. The combined holdings would give Korean Air a majority stake in Asiana, holding approximately 64 percent of the company.
The deal is expected to easily earn regulatory approval, as state-owned Korea Development Bank has pledged financial support for the deal. While Korean Air will raise funds for the purchase from shareholders, Korea Development Bank will invest $722.4 million through Korean Air towards share ownership and exchangeable bond sales.
"The main reason behind Korean Air's decision to acquire Asiana Airlines at this time is to stabilize the Korean aviation industry, which is suffering from the COVID-19 pandemic," Hanjin Group wrote in a press release. "Considering that Korean Air's financial status could also be endangered if the COVID-19 situation is prolonged, it is inevitable to restructure the domestic aviation market to enhance its competitiveness and minimize the injection of public funds."
When the deal goes through, the state would be given a say in operations, as Korea Development Bank would hold "ordinary shares" and have a voting right in the company. In addition, the bank's presence would allow them to "monitor and make sure Hanjin KAL and Korean Air follow through with acquisition plans." It is unclear when the deal is expected to clear, as multiple international stakeholders will have their say on the proposed merger.
MERGER LEAVES SEVERAL QUESTIONS OPEN FOR FREQUENT FLYERS
For frequent flyers on both sides of the Pacific Ocean, the merger opens several questions about operations. Korean Air has a joint venture with SkyTeam partner Delta Air Lines, which allows both airlines to manage joint sales, offer codeshare flights and provide additional frequent flyer benefits. It is expected that the combined de factor South Korean flag carrier would stay in the SkyTeam alliance, with a transition period for Asiana to be absorbed into Korean Air.
Although Star Alliance flyers would no longer have a direct partner flying to Seoul, there are still several options in Asia to connect with the nation. While United Airlines has alliance partners in both All Nippon Airways (ANA) and Singapore Airlines, neither one is a joint venture in a similar vein between Delta and Korean Air.