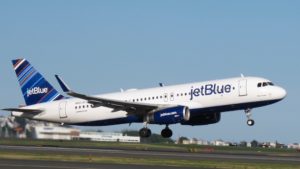 JetBlue is expanding its presence in Havana and Mexico City, adding three new routes and more flights from cities in the northeast and south Florida.
The airline has just announced that it will offer New England's first non-stop service to Cuba with flights on Saturdays between Boston's Logan International Airport and Havana's Jose Marti International Airport beginning November 10.
In addition, JetBlue will further expand service to Cuba with up to three daily flights between Fort Lauderdale-Hollywood International Airport and Havana on Sundays through Fridays beginning November 11.
The new service is the result of the U.S.Department of Transportation's recent decision grant increased frequencies to the airline. The routes however, are still subject to government approval and will go on sale in the coming weeks.
"As the first airline to operate commercial service between the U.S. and Cuba in more than 50 years, we are proud to announce another JetBlue first by offering the only nonstop service between New England and Havana," Marty St. George, executive vice president commercial and planning, JetBlue, said in a statement. "Between the Boston service and the additional frequency between south Florida and Havana, we are cementing our position as a top choice for travel to Cuba."
"JetBlue's new nonstop service between Bostonand Havana will provide better connections for our leading healthcare, biotechnology, financial, cultural and educational institutions to link those vital sectors with new opportunities in Cuba," added Massport CEO Thomas P. Glynn. "There has been a strong demand for this service and we look forward to the exciting new travel opportunities it will generate for the entire New England region."
JetBlue also announced plans to introduce two new daily nonstop flights to Mexico City with service from Boston and New York's John F. Kennedy International Airport beginning October 25.
Also subject to government approval, these new routes add to JetBlue's existing service to Mexico City from Orlando International Airport and Fort Lauderdale. The new service brings JetBlue daily flights between the U.S. and Mexico's capital city to six.
"This new service from our two largest focus cities will make it easier for our customers in New York and Boston to discover Mexico City with their favorite airline," said St. George.
JetBlue's new service to Mexico City is the result of a decision by the U.S.Department of Transportation to require certain airlines to divest airport slots in order to enhance competition at Mexico City International Airport.
"We thank the DOT for requiring slot divesture at Mexico City so as to foster more choices for the traveling public," James Hnat, executive vice president and general counsel, JetBlue, said in a statement. "More than ever, it is crucially important that federal regulators continue to address competition concerns at slot-restricted airports and take steps to assist carriers like JetBlue with securing meaningful access to restricted markets."
All new service to Cuba and Mexico will be operated on JetBlue's Airbus A320.