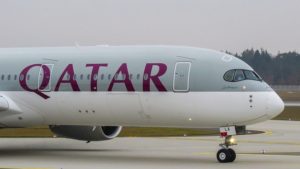 India will soon have a new airline.
Qatar Airways Chief Executive Akbar Al Baker said during a press conference this week in France that he plans to launch an airline in the vast South Asian country with about 100 planes, according to Financial Express.
Al Baker did not reveal what type of aircraft are to be deployed for the new airline during the press conference, a video of which was posted on the company's Twitter feed.
The Gulf carrier initially revealed its intentions to expand into the Indian market in March 2017, Financial Express reported. It is unclear when the new airline will begin operations.
The move is a logical one given that India has grown to be an economic superpower and an important destination for Qatar.
India is the world's seventh largest tourism economy in terms of GDP, according to the World Travel & Tourism Council (WTTC).
In addition to expanding into India, Qatar continues to strengthen its commitment in Italy.
In 2017, Qatar purchased 49 percent of AQA Holding, the parent company of Air Italy. This week, during a press conference in Milan, Al Baker was part of a group of executives on hand to unveil Air Italy's new brand identity and a new airline business plan that will focus on providing excellent passenger experience and serving the next generation of traveler in order to position itself as Italy's leading airline.
At the same Milan press conference, it was announced that Meridiana, Italy's long-established privately owned airline, will enter a new phase of growth and development by becoming part of Air Italy.
The Italian airline's goal is to have about 50 aircraft operating by 2022, according to a statement.
Air Italy has already committed to receiving 20 new Boeing 737-Max aircraft over the next three years and five Airbus A330-200 aircraft this year from the Qatar Airways' fleet.
The network of destinations served by Air Italy will also be expanding. Among the new routes are a Milan to New York long-haul option as well as Milan to Miami. New short-haul routes are also on the horizon, including connecting Milan to such cities as Rome, Naples, Palermo, Catania, and Lamezia Terme.
"Qatar Airways is known the world over as the best airline in the world, as voted for in Skytrax 2017," said Al Baker. "It is with this ambition and dedication to the passenger experience that we will work together to build a sustainable airline alternative for the people of Italy and global travelers to and from this beautiful country."